5 reasons you should use stackable crates to keep bread and pastries safe?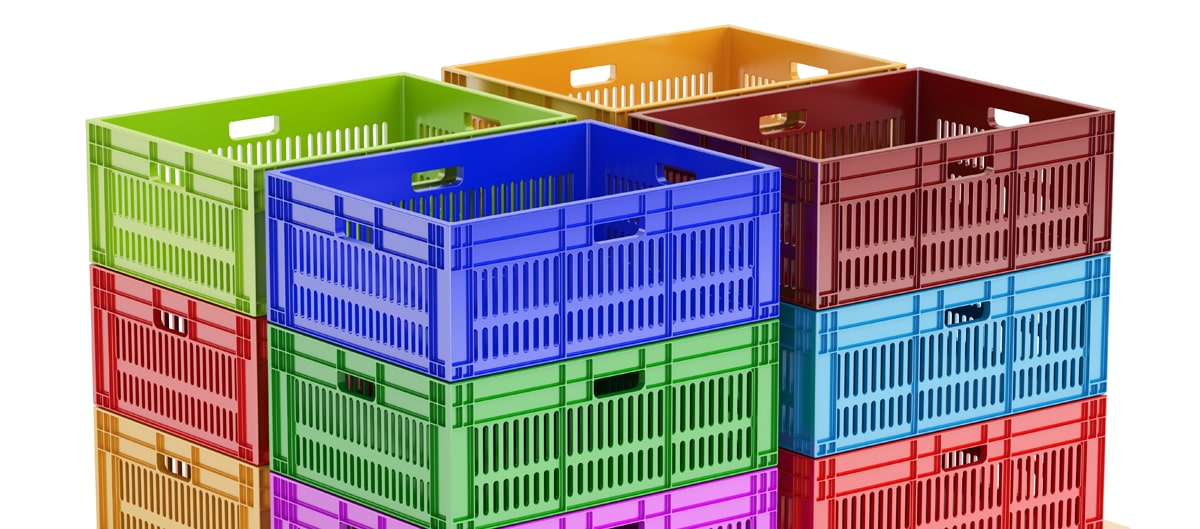 ---
Bread and other dairy substances are our everyday needs. We consume these products only because of their safe transportation from suppliers to stores and bakeries. However, Bread and other dairy stuff still get contaminated, stale, or capitulated due to the use of unsafe and unreliable crates during transportation. However, The best crates to protect dairy stuff, particularly bread, are stackable bread crates. Many would have differing views that stackable crates are the most reliable for transportation, but these plastic crates are good enough to keep bread safe and fresh without a doubt. If you are a bread supplier or a bakery owner and face issues keeping bread protected, then you must read this article to know how to protect bread using plastic trays.
Usable in all conditions

The plastic boxes for bread protection offer great support in all conditions. Stackable plastic crates are suitable for summer, winter or monsoon. These plastic boxes are rust-proof, insulator and termite-proof. Neither the high temperatures can melt off these trays nor the low temperatures cause any damage. Contrary to this, metallic and ironic trays are good conductors of temperature. In addition, wooden crates can get termites, and metallic trays can get rust, but the stackable trays are suitable to use and independent of conditions, weather and other factors.

Light weighted

Stackable bread trays are durable, so they are a default choice for bread transportation. Suppliers want to transport an excessive quantity of bread in one go to save profits if they use trays other than plastic trays; this increases the burden on transporting vehicles. Therefore, plastic trays are used for transporting high quantities of bread as the weight of metals and wood is significantly high.

Cost Effective

Plastics are widely used worldwide because of their cost-effectiveness. Plastic containers are cheaper compared to other containers like metallic or wooden. If the suppliers use a plastic basket for transportation, they will save 2 to 3 times as if they use metallic trays. You can quickly get a dozen plastic trays for the price of a single metallic container. Therefore a supplier must always use stackable trays to save a significant amount and to get high profits.

Durability

Apart from being light weighted and cost-effective, An essential quality of plastic trays is their durability. Plastic containers are more durable than any other products on earth. We often see plastic being used everywhere because of its long-lasting durability. A plastic container can survive for eternity without getting contaminated. On the other hand, the life cycle of metallic and wooden containers is very little compared to that of plastic. Therefore suppliers should only use durable plastic trays for bread transportation.

Maximum protection

All the combined qualities of stackable bread trays make them a full protective container to transport bread and other dairy stuff. The plastic trays are meant to support the cause of bread transportation country-wide. Stackable trays are easy to carry, budget-friendly and damage proof which makes these trays the safest containers of all without a doubt. However, the wooden and metallic trays are heavy, costly, less durable, conducting, water corrosive etc.
Stackable trays as bakery trays
The stackable bread crates, apart from being an excellent option to use for transportation for suppliers, it is also a good option for bakery owners. The bakery owners can use these bread crates as bakery trays because they are easy to use. Bakery owners can keep as many slices of bread as they want in these trays without worrying about bread getting stale. In addition to bread, bakery owners can use these trays to keep pastries. As the bakeries are small businesses, they need to monitor their expenses closely and try to save as much as possible. However, investing in plastic trays rather than spending on metallic and wooden trays will save hem a significant amount which they can use to expand their business.
Buying guide for stackable bread crates
Plastic trays come in a wide range; they come in various sizes, lids, without lids and different colours depending on the requirements of suppliers and bakery owners. However, it is a wise decision to switch to plastic trays in case you use other than plastic trays. Getting plastic trays for your business is easier than you think; there are many resources like online and physical shops to buy these trays. Still, if you need help buying these trays, we would like to mention a reliable supplier that deals in plastic boxes, trays and containers.
MP Plastic
MP plastic is a bread crates supplier company that supplies bread crates in Pakistan and worldwide. Mp plastic provides all plastic trays for transportation and bakeries. However, The MP Plastic industries produce plastic trays in massive quantities. MP Plastic is one of the country's largest suppliers of bread crates. MP Plastic is not only limited to trays only. It deals in various plastic products, from polymers, garbage bins, restaurant supplies, and buckets to pallets. MP Plastic has an increasing number of clients, mostly bread suppliers, dairy product suppliers, hotels, restaurants, local shops etc. If you are a bread supplier or a bakery owner, but do not use plastic bread trays for transportation or storing bread and want to buy plastic trays, then there is no better option than MP Plastic.
Conclusion
Bread and dairy products make a significant portion of our breakfast. Therefore, reliable containers like stackable plastic crates are used to make transportation safe and convenient. The metallic and wooden crates are also safe but less safe than plastic trays. If the bread suppliers or bakery owners want to keep the bread fresh and intact for a long time, they must use plastic trays.